I've been looking at options block trades (the really big trades) for years now, so I don't often get surprised by any given trade. However, every once in a while I still come across a real eye-opener. It's generally a trade that involves a massive amount of contracts or capital.
Options block trades are usually done by well-funded traders and strategists, which also means they usually have access to top notch research. So, it can be instructive to watch what block trades hit the tape and then try to glean valuable info from them.



But sometimes, a trade is so large there's no doubt it's coming from a major fund or trading firm. And if that trade is making an obvious statement about the direction (or volatility) of an underlying asset, you definitely need to pay attention to it.
Just this week, I came across just this sort of monumental trade in options on Electronic Arts (NASDAQ: EA). EA is one of the largest video game software companies in the world. The company publishes or licenses many popular blockbuster games each year.
However, EA stock has been floundering this month. After worse than expected earnings, the stock can't seem to catch a break. What's more, the news just seems to keep getting worse. An analyst just announced that the company isn't likely to meet expectations on sales for its biggest game release this fall (because pre-orders haven't been as strong as expected).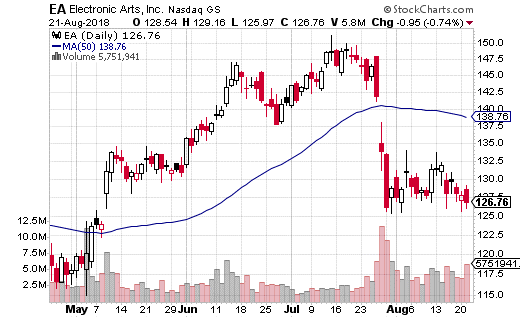 As such, you'd expect options action to suggest the stock is going hang out at current levels or go lower. Yet, this massive trade I mentioned above is the exact opposite. As a matter of fact, someone is betting a boatload of money that in EA is going higher by next January.
Here are the trade details…
The EA January 2019 130-135 call spread was purchased for $2.50 with the stock price at $127. That means the buyer bought the 130 calls and sold the 135 calls. Here's the kicker… the trade was executed over 75,000 times. That means the trader spent almost $19 million in premium to purchase the spread!
Moreover, $2.50 is a lot to spend on a $5-wide call spread. The trade breaks even at $132.50 and max gain is at $135 or above – meaning the most this trade can make is $2.50 or 100%. For a call spread, that's about as low of return as you will see. Granted, the trader purchased 5 months of time on the strategy and the stock is only $3 away from the bottom strike.
Regardless, when someone spends $19 million (to make $19 million at most, in this case) there's obviously a very strong belief the stock is going higher by next year. Perhaps it's simply an expected reversion towards the mean (although $135 is still below the 50-day moving average). Or, it could be a belief that software sales will be closer to initial expectations than the market is predicting. Or, maybe it's just a bet on the entire industry performing well as we move into the busy season for video gaming.
Whatever the reason, I wouldn't bet against EA going higher over the next five months. If you want to profit from the prediction this gigantic trade is making, you could do a similar trade. However, if you don't like buying call spreads, especially when they cost $2.50, you could also sell put spreads below the price and collect a credit. You aren't only betting on the stock going up, you're simply betting that it won't go lower.



Selling the January 115-120 put spread collects a credit around $1.50, which you keep if the stock stays above $120 by January expiration. It's only $1.00 less than the max gain of the call spread and it pays out even if the stock just moves sideways for the next few months. Or, you could go even lower on your put strikes if you want to take on less risk.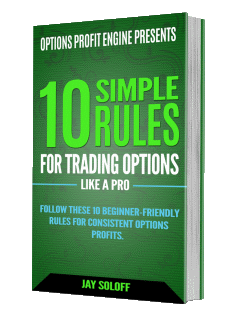 New FREE guide will turn you from struggling trader to consistent winner
Follow these 10 simple rules that professional traders use – but most individuals ignore, forget or just plain were never told about – and you'll discover you how you can generate hundreds of dollars in extra income… beat 99% of other investors… target the biggest "profit zones" while avoiding risky lottery ticket trades that can wipe out your portfolio in the blink of an eye and much more. You'll also learn how to figure out exactly how much you'll make before you even place your trade and when to collect your cash.
Click here to stop struggling and start winning.
— The Option Specialist