Sometimes, you just can't escape from the past.
Ask Wells Fargo & Co. (NYSE: WFC).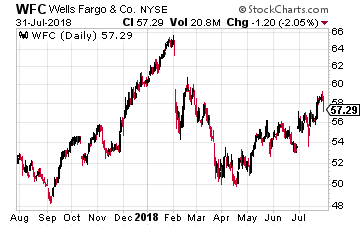 The bank has never recovered from the scandal two years ago, when it opened three million fake accounts for its customers – without their knowledge – in order to meet sales targets.
The company subsequently suffered more regulatory problems over excessive mortgage fees and shady auto insurance. The New York Times revealed that customers were given unnecessary auto insurance without knowledge – which again resulted in excessive fees.
Nobody really "likes" their bank. They're functional and exist because we need them.
But once you start messing with customers' accounts and money, you're asking for trouble. So when these scandals rocked Wells Fargo, its PR tanked.
Its recent quarterly results reflected the ongoing woes…



An Across-the-Board Decline
For the second quarter, Wells Fargo missed both top-line and bottom-line estimates…
Revenue: Forecasts called for $21.6 billion, but the number came in $77 million short at $21.5 billion – down 2.7% year-over-year.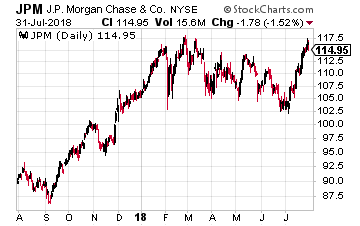 Earnings: The $5.2 billion net income was below the $5.4 billion forecast. Consequently, the $1.08 EPS fell short by 4 cents. On a diluted basis, the $4.8 billion ($0.98 per share) was lower than the $5.4 billion and $1.08 per share a year earlier. By contrast, rivals JPMorgan Chase (NYSE: JPM) and Citigroup (NYSE: C) crushed their Q2 profit estimates.
Wells Fargo's profit took a hit with an income-tax expense of $481 million ($0.10 per share), plus a $619 million "non-litigation expense." This included reimbursing wealth management customers who were overcharged for the past seven years, plus payments to correct fraudulent auto-lending practices, inaccurate mortgage fees, and class-action settlements over poor sales practices.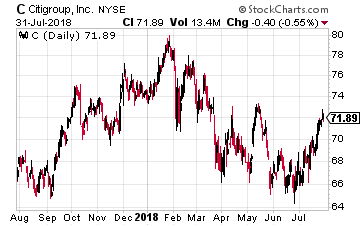 On a sequential basis, Wells Fargo's second quarter followed a first-quarter profit of $5.9 billion ($1.12 per share)… which was swiftly revised to $4.7 billion ($0.96 per share) after the Office of the Comptroller of the Currency and Consumer Financial Protection Bureau hit the company will a $1 billion fine for its indiscretions.
Wells Fargo also suffered revenue and profit losses in its community banking, corporate and wholesale banking, and wealth management segments – the latter of which slumped by 37%. Average deposits and loans also fell, while mortgage fees sank by 33%.
Yet even as the numbers fell, the company still paid 3% more in employee salaries and 6% more in commissions – to $4.4 billion and $2.6 billion, respectively.
Quoted on Marketwatch, Market Realist CEO J.P. Gravitt says it's a perception problem with customers, investors, and employees: "They're having to work much harder to get business and they're trying harder to retain good people."
Despite the poor performance, Wells Fargo CEO Tim Sloan stated, "During the second quarter, we continued to transform into a better, stronger company for our customers, team members, communities, and shareholders."
Really?
Octavio Marenzi, CEO of consultancy firm Opimas, had a different take. He told CNBC, "The broad-based weakness of Wells Fargo's results is troubling, with many indicators such as deposits, commercial, and consumer lending trending down. It appears the slew of scandals are taking their toll. Compared to JPMorgan's excellent results, Wells Fargo is looking rather hapless, unable to get it right."



There is some good news, however…
Wells Gives… And the Market Takes Away
Wells Fargo's margins are solid. And it has a ton of cash ($372.6 billion) versus $332.4 billion in debt.
That allows it to pay a $1.56 per share annual dividend (2.75% yield) – which it just raised by 10%. It will now pay a quarterly $0.43 per share, making the annual payout $1.72 per share.
Unfortunately, though, its share price has significantly underperformed its major banking peers – JPMorgan, Citigroup, and Bank of America – and the broader S&P 500 over the past two scandal-hit years.
What's the company doing about its poor performance?
"Our top priority remains rebuilding the trust of shareholders, customers, team members, communities, and regulators," CEO Sloan and chairman Elizabeth Duke told shareholders in March.
Indeed, some of it is being forced upon them…
Fed Caps Wells Fargo Growth in "Unprecedented" Punishment
In February, the Fed had seen enough and slapped heavy sanctions on Wells Fargo.
Citing "many pervasive and serious compliance and conduct failures," it imposed a limit on Wells Fargo's assets at $1.95 trillion until it restores operational order and meets risk-management requirements.
In other words, the Fed is capping Wells Fargo's growth.
CEO Sloan said the directive will chop $300-400 million from the company's 2018 profits – or up to 1.8% of the $22.2 billion it earned in 2017. Quoted on Marketwatch, Susquehanna's Jack Micenko called the Fed's decision "unprecedented."
In addition, the Fed morphed into an activist investor and forced the company to replace four board members.
The Fed's actions aren't the only growth-squasher, either…
Sales First, Customers Second
Wells Fargo is currently refunding tens of millions of dollars to customers affected by add-on products that it improperly sold them.
It comes amid a Consumer Financial Protection Bureau investigation into whether Wells Fargo customers were deceived into buying products they didn't need or know how to use. They include monthly fees for legal services and pet insurance. The Bureau is investigating whether customers were properly informed of the products, knew the monthly fees (which were charged for years), and were able to cancel.
The bank stopped selling such products last year, but the damage is already done.
In another example of the bank's neglect of its customers, Yahoo! reported recently that Wells Fargo's private investment advisors are being pressured to sell one-size-fits-all model portfolios (with compensation and commissions used as incentives), rather than offer more personal investment advice and bespoke portfolios.
Barron's quotes former Wells Fargo portfolio managers telling Yahoo that they felt they were "supposed to hide the shift (to model portfolios) from clients so services could continue to be represented as highly personalized advice. I was going to be a sales person representing that I managed the portfolio. I couldn't live with that."
The Struggle is Real… And Lasting
Ultimately, Wells Fargo is still struggling with a negative image.
That – plus the fines, refunds, and Fed cap on its assets – means it's an uphill battle for growth. And the stock.
Indeed, as both trading volume and relative strength have declined recently, the technicals indicate a dip to the low-$50s and the September options show bearish traders outweighing bullish ones by 4:1.
Rising interest rates and the trade war don't help, either. And with banking competition already tough and Wells Fargo underperforming its rivals, it faces serious challenges.
Wells Fargo isn't going anywhere, but as an investment, it's still too encumbered with growth-sapping negatives.
Warren Buffett Went All-in With a Sector He Swore He'd Never Touch. Will you?
Buffett could see this new asset run 2,524% in 2018. And he's not the only one…
– Shark Tank Personality Mark Cuban says "it's the most exciting thing I've ever seen."
– Facebook CEO Mark Zuckerberg threw down $19 billion to get a piece…
– Microsoft Founder Bill Gates wagered $26 billion trying to control it…
What is it? It's not gold, crypto or any mainstream investment.
But these mega-billionaires have bet the farm it's about to become the most valuable asset on Earth. And if you act fast, you could earn as much as 2,524% before the year is up.
Click here for immediate details.
— The Option Specialist