Just when it started to look like the stock market was ready to let go of volatility for the typically slow summer months, we got yet another spike in the VIX. Keep in mind, the VIX is the most commonly used gauge of investor concern and measures expected volatility in the S&P 500 index (via options).
2018 has been the first year in several where we're actually getting some regular action (i.e. up days) in the VIX. Many of the higher volatility days occurring between February and April were primarily related to concerns over tariffs and a potential trade war with China. There was (and still may be) some concerns over inflation and higher interest rates as well.



However, it appeared that the VIX and higher volatility were going to go quietly in the night as the weather started heating up. While the VIX didn't get back to pre-February levels of below $10, it did look like the "fear index" was going to hang out around $12.50.
But then, on May 29th, concerns exploded over Italy's political mess and its ability to service its government debt. Italian stocks gapped down 6% and Eurozone stocks dropped about 4% overall. The VIX shot up to $17, a nearly 30% gap in just a day.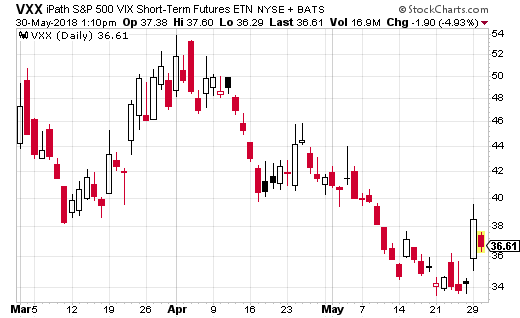 Meanwhile in the US, financial stocks got hit hard, especially banks. Investors became concerned over US banks' exposure to European debt. We saw this scenario play out quite a bit when Greece, Italy, and Spain all had concerns over servicing their debt after the financial crisis.
Of course, the ECB was able to assuage concerns back then and I anticipate they will do so again. Not to mention, while US banks may have some exposure to Italian debt, it certainly isn't enough to justify a nearly 4% drop in several of the major bank stocks.
In fact, a massive trade in the Financial Select SPDR Fund (NYSE: XLF) supports the theory that the smart money is not ready to give up on the financial sector. It may be quite the opposite.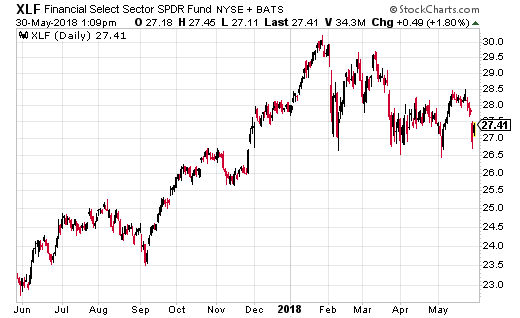 A large trader purchased 30,000 July 20th 28 calls in XLF while simultaneously selling 30,000 of the 26 puts. The trade resulted in a credit of $0.11 ($330,000 in premiums collected) with the stock at $27.



A trade like this is often called a risk reversal and is similar to getting long the stock itself. The short puts are used to fund the long calls plus typically some extra (so the trader makes a little money if the stock/ETF doesn't move). Above $28 in XLF and the trades works the same as being long stock, while below $26 is roughly the same as being short the stock. Every dollar above $28 or below $26 is essentially worth $3 million in gains or losses.
This is obviously a very bullish play on XLF in the short term. The trade expires in mid-July, so the trader expects the rebound to happen pretty quick… and he or she is also not very worried about downside risk.
While I agree with the theory behind this trade, I personally don't recommend risk reversals since they're too risky for most traders. With XLF options so cheap, it's easy enough to just buy the 27 or 28 calls outright. The 27 calls cost $0.69 while the 28 calls cost $0.29. Both are inexpensive and can give you almost two months of time for XLF to rebound.
— The Option Specialist