You certainly have seen/heard/experienced some of the extreme volatility during February.
As expected, investors are becoming increasingly skeptical of the direction of the market.
Many market vets are now questioning their decision to hold off on the sale of their stocks.
The simple answer is DO NOT!
There's no cause for alarm.
Here's why:
The only certain indicator of the market's potential is options prices and currently, the level of risk is still manageable.
In fact, the prediction is that the conditions ahead are optimal.
Although, fear, at first, was that the losses incurred would eventually cause the selloff to spiral – potentially out of control.
So long as these positions remain in the possession of the smart money, the economy should remain stable.
Unlike the banking system, which, when crippled, causes devastation to the economy, this current economy, when affected, luckily has some adults who understand how things work.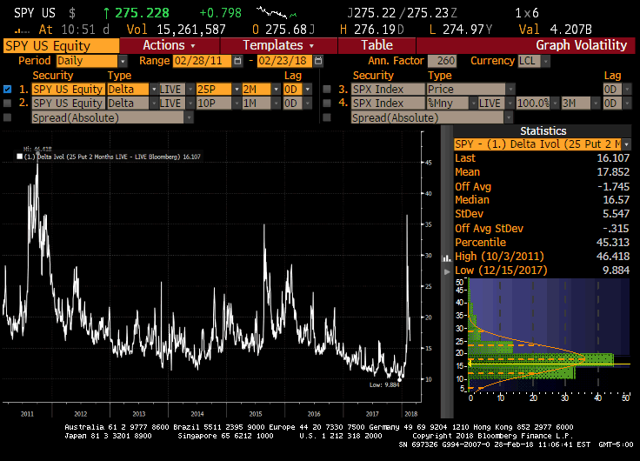 When you have billions on the line, it comes with an expertise that should help mitigate the losses.
Options prices that include valuable near-term information regarding the market's assessment of upside potential and downside risk; are indicating normal levels of risk for U.S. equities.
Wage growth data of U.S. was also higher than expectations for the month of February which sparked concern that the faster inflation would result in faster rate increases, especially real rates.
It was that concern triggered to the selloff in equities.
During Feb, there was also initial fear that huge losses faced by holders of short volume positions would lead to a greater selloff.
A consensus trade during the recent months suggests betting on low volatility, also known as shorting volatility, on the prospect that near-record-low market volatility, for both bonds & stocks will continue unabated.
Such response to ultra-flexible monetary policies is somehow both logical and rational and that became the reason to draw real interest rates to abnormally low levels, possibly leading pension funds and other institutional investors to find substitute ways to boost returns such as to sell options and volatility.
It is important to remember that the February crisis occurred as a result of an unexpected increase in the rate.
This is exactly the kind of panic which causes the market to correct itself sustainably.
One thing to keep you assured, however, is the fact that there's no imminent danger to the options market.
What happened is that the risk of owning equities has increased; it is no longer abnormally low, rather, it is at an optimal level.
— The Option Specialist