Despite the harsh selloff in stocks this December, gold hasn't seen a major influx of investors. As the quintessential precious metal, gold tends to attract investment dollars in times of uncertainty and investor concern. Yet, with the S&P 500 down nearly 7% in December, gold is only up about 2%.
That's not to say gold has been ignored. From mid-November the price of an ounce of gold has gone from $1,200 to just over $1,250. There's someone buying gold. It's just not what gold bulls may have expected given the bearish action in stocks.




If you were following the markets after the financial crisis of 2008-2009, you may remember how crazy the demand for gold became. The price of the yellow metal climbed from roughly $800 to $1,800 in under 3 years. There were seemingly gold buying stores open on every corner, snapping up any gold items customers wanted to sell.
One of the big catalysts for the gold boom was central bank buying from various countries around the globe. It doesn't seem like central banks are in that business anymore, so that particular tailwind may not be forthcoming. Keep in mind, gold tends to be a currency replacement during stressful financial periods. However, cryptocurrencies have somewhat filled that role as well – or at least they were before the crypto bubble burst.
So what does that mean for gold in 2019?
Well, there's at least one long-term buyer of gold that could be expecting a substantial increase in the price over the next year. This buyer was recently snapping long-term options in SPDR Gold Shares (NYSE: GLD) expiring in January of 2020.
More specifically, the trader purchased about 12,000 GLD 150 calls expiring in January of 2020 for a price of about $1.30 per contract (with GLD at $118). GLD will need to climb all the way to $151.30 for this trade just break even. By the way, the gold ETF hasn't been over $150 since 2003.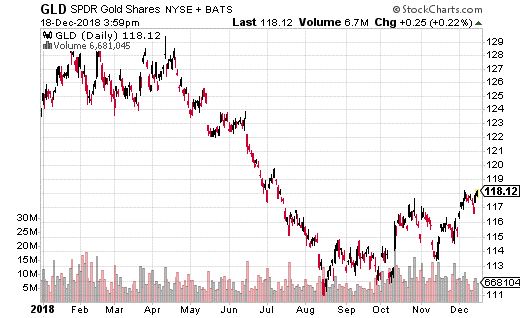 Granted the trader does have time on his or her side – over a year. But, we're also talking about $1.6 million spent in premium on this trade, which is also the max loss possibility. Max gain of course is unlimited should the price of gold explode higher.
Perhaps the gold call buyer firmly believes the price of gold is going to skyrocket in 2019. Maybe the trader is willing to sacrifice proximity to the at-the-money option in order to buy plenty of time. Or, perhaps this a type of market/currency hedge. It will only come into play most likely if things get pretty harsh in 2019. For a massive portfolio, $1.6 million wouldn't necessarily be that much to spend on a hedge.
Generally speaking, I think recent upward momentum in gold plus pretty strong option buying (like this trade) are good signs for those bullish on gold. However, I wouldn't buy 2020 far out-of-the-money calls. Instead, I think buying less time and getting closer to the current price makes sense.
For example, June 2019 128 calls are only $1.75 per contract. That's just $10 higher than the current price of GLD and would only require a move to about $130 to start making money on the trade.
New FREE Training: Become a Fearless Options Trader in 60 Minutes or Less
Discover how this one trading hack can transform you into a fearless trader in this new training session. Details include:
The 3 Steps to Fearless Options Trading
The Real Reason Why 90% of Options Trader Fail (and how not to)
My "Do Less Make More" Options Trading "Hack"
How to average a 28% gain on every winning trade by playing both sides of the market
How to achieve an 80% win rate even in this market
How to put it all together … and create your own personal "No Fear" options system
Now accepting new registrations. Click here to start.
— The Option Specialist