The Mid-Term Elections this year carry more weight than any non-presidential election in recent memory. The results of the election could have a huge impact on everything from taxes to healthcare. Of course there are many variables to consider and the situation is extraordinarily complex. So, instead of looking at the big picture, I'm going to focus on just one sector, the financials.



The financial sector includes banks, brokerages, insurance companies, asset managers, and other related companies. It's the sector that's almost certainly the most heavily influenced by interest rates. On the other hand, it's probably the least impacted by tariffs.
So what does that mean for financials as approach the mid-term elections?
If Congressional control changes hands, Congress will be less likely to approve further tax cuts or cuts to healthcare spending. Overall, that's probably neutral to the financial sector. If Congress doesn't change hands, it's more of the same policy we've seen for the last two years, which could possibly lead to higher interest rates sooner… generally a good thing for banks and asset managers.
Additionally, with a change in Congressional control, we could see the current administration's tariffs come to an end. That's probably good news for the overall economy but may not have much influence on the financial sector. Still, a rising tide lifts all boats and if stocks go up because of the tariffs ending, financials will likely go up as well.
So far, we're mostly talking about neutral to positive effects on the financial sector. On the negative side of the ledger, a major conflict between Congress and the executive branch could introduce enough uncertainty into the financial markets to cause a selloff. That's highly subjective of course – perhaps investors will feel more secure with a Congress that keeps the executive branch in check.
Moreover, we've been sitting at or near all-time highs in the major stock indices for a while now. It's possible that we see a pullback in stocks due to frothy valuations. If investors are concerned about high valuations, they may use the potentially volatile election period as a reason to go to cash.
What's all of this mean for financials? Let's take a look at options action in SPDR Financial Select Sector ETF (NYSE: XLF) and see what comes to light.



One interesting trade I saw recently – given all the above analysis – was a fairly large covered call trade in XLF.  A strategist sold 3,000 of the November 16th calls for $0.90 against 300,000 long shares of XLF at $28.25. This can be construed as a neutral, income-generating position, but it's also defensive as well.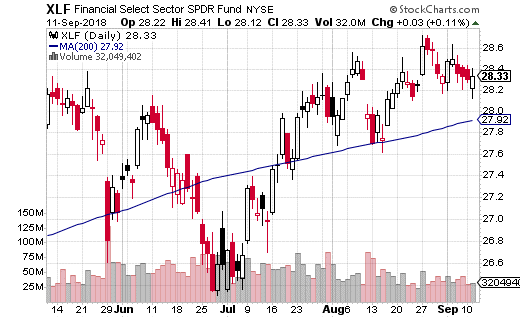 Let's look at the particulars of the trade. The max gain for this strategy is $0.65, which is the credit received minus the difference between the stock price ($28.25) and the strike (28). That also means there's no growth potential on the share side of the covered call (like you'd see if an OTM option was sold).
Why trade a covered call with no growth potential? First, by doing an ATM (or ITM) covered call, the credit on the short call is much higher than it would be for an OTM option. In fact, a roughly 3% yield (in roughly 2 months' time) on a $28 ETF (that doesn't move much) isn't bad at all. More importantly, that $0.90 credit serves as downside protection on the long shares. This trade protects XLF down to $27.10.
Also don't forget, if XLF moves higher the trader still keeps the $0.65 in profits after the shares get called away. With the elections coming up, XLF probably isn't going to go too much higher. And, with the downside protection from the short call, this is looking like a savvy way to make a little extra money on the financial sector while we await November results.
If you're a fan of covered call trading, this is an interesting trade to make that doesn't carry a lot of risk. While I normally prefer to use OTM options, in the case of a cheap stock with cheap options like XLF, this is probably the optimal way to trade the scenario. It's not a bad way to add a little extra income to your portfolio over the next two months.
Live Training: How to get dividend-like yield from stocks that don't pay dividends
Join me for a live interactive training on using the Disruptive Dividends options strategy to boost your returns with little effort. I'll even show how to get dividend-like yield from stocks that don't pay dividends. Toward the end of the discussion, you'll get four actionable trades you can place the very next morning. Then we'll wrap up with a live Q&A. The event is on Wednesday, September 26th and registration is free. Click here for details.
— The Option Specialist