Stocks find themselves in the midst of a summer snooze. Last week the S&P 500 experienced one of its tightest weekly trading ranges in ages. Despite the dithering on a broad level, many equities beneath the surface are moving and grooving. And that's creating opportunities aplenty for buyers and sellers alike. Today we're donning our bear paws to offer up three bearish options trades to diversify your portfolio.
Injecting a handful of bearish trades — what options enthusiast call short delta trades — into your account carries many potential benefits. First, it allows you to deploy more capital without necessarily taking more risk in your overall trading portfolio. Suppose you're heading into this week with seven open bullish trades. By tacking on a couple of short trades to the mix, you're putting more of your dough to work while reducing the overall portfolio risk.
Second, carrying a more diversified portfolio reduces the volatility of your equity curve. That means your account's profit/loss sees less turbulence making it easier for you to stay in the game.



Here are three of the best short trade setups for the week ahead.
3 Bearish Options Trades to Hedge Your Bets: Yelp (YELP)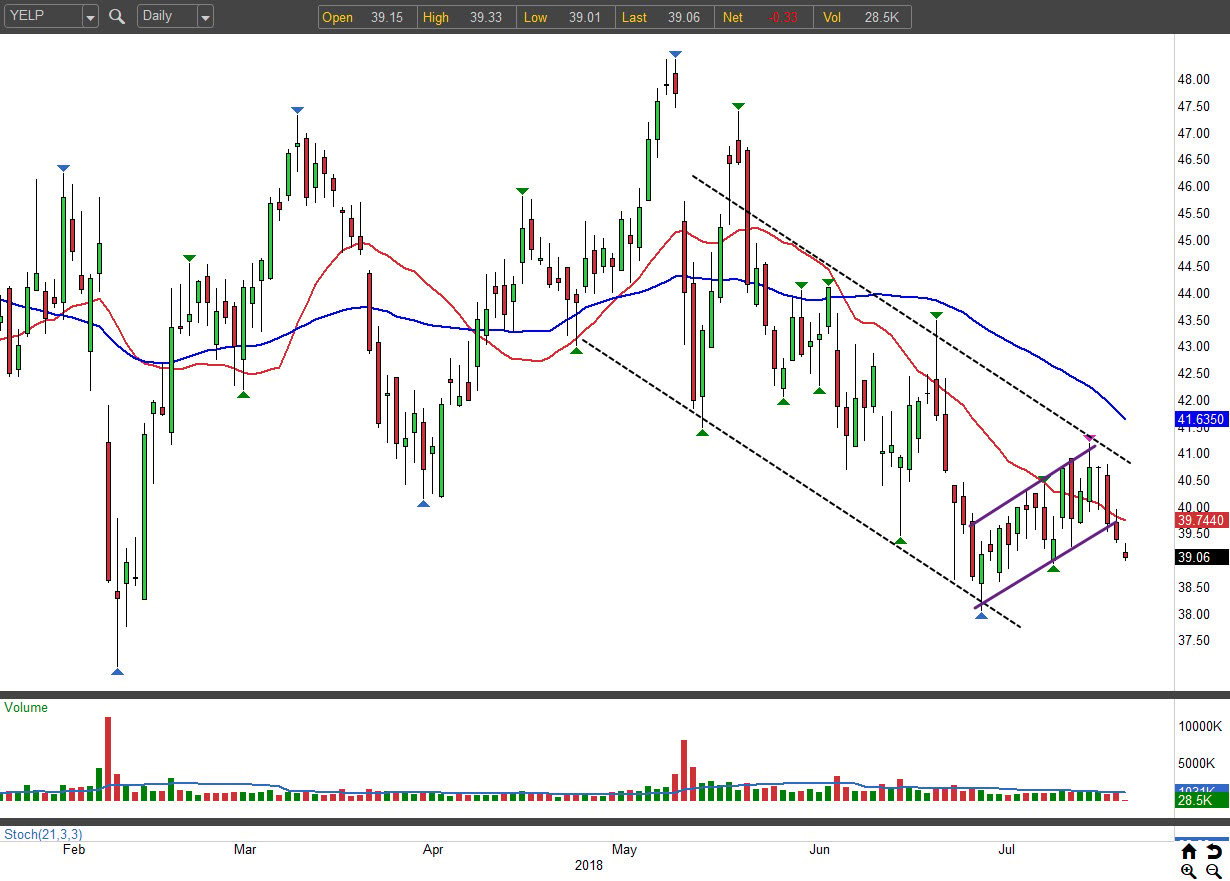 Source: OptionsAnalytix
Ever since plunging after last quarter's earnings release, Yelp (NYSE:YELP) stock has been on the ropes. The stock's descending price channel has been orderly and consistent, giving rally sellers numerous chances to short the stock.
Right now YELP has a beautiful bear flag pattern that just triggered. And that means the time for new short trades is now.
Liquidity in YELP stock options leaves much to be desired, so limit orders are a must. Consider buying the Sep $40 puts.
3 Bearish Options Trades to Hedge Your Bets: Starbucks (SBUX)
Starbucks (NASDAQ:SBUX) shares suffered a big-league breakdown last month, and that means any rallies are now suspect. With old support now liable to become resistance and a mountain of overhead supply, I can't help but suggest using the recent rebound as an opportunity to deploy bearish trades.
SBUX does report earnings on July 26, so consider that the wild card for today's trade idea. Even if it does somehow pull a rabbit out of the hat, I'm still inclined to bet any kind of post-earnings jump gets faded near $55.
Consider selling the Sep $55/$57.50 bear call for 25 cents or better.
3 Bearish Options Trades to Hedge Your Bets: Carnival (CCL)




Ever since notching a record high at $72 in late January, Carnival (NYSE:CCL) has been taking on water. Heading into this week, CCL stock is now over 19% off its highs. The latest setback came in the form of disappointing earnings which sent the stock to a new 52-week low. Since then we've seen a modest rebound, but it has been far from convincing.
Late last week the stock rolled over anew, suggesting more pain is in store. I think we could see a re-test of the recent lows near $56. To capitalize, buy the Sep $60 puts for around $3.40.
As of this writing, Tyler Craig didn't hold positions in any of the aforementioned securities. Want more education on how to trade? Check out his trading blog, Tales of a Technician.
— The Option Specialist