On February 21, the Golden Ocean Group Ltd (GOGL) witnessed an extraordinary large options trading activity. Over 1,043 call options were bought by stock traders on the option representing a 1,783% increase when compared to the usual 56 call options daily volume.
With a debt-to-equity ratio of 0.94 and also a current ratio of 2.68, GOGL opened on Thursday at $9.31. Golden Ocean Group's one year high is $9.95 while its one year low is $5.43. Their market cap is $1,304.68, a beta of 2.15 and PE ratio of 116.36.
Company Profile
Formerly known as Knightsbridge Shipping Limited, GOGL is a well known international dry bulk shipping company involved in the transportation of dry bulk cargoes. The company's focus is on Panamax, Capesize and Supramax markets. Besides, its vessels transport include; a range bulk commodities such as grains, ores, fertilizers, and coal.
Their fleet includes bareboat vessels, commercial management vessels, owned vessels, new buildings and chartered vessels. At present, Golden Ocean Group has more than 40 dry bulk carriers in its ownership and has more than 20 active contracts of new buildings.
It is pertinent to mention that it also has more than 10 vessels chartered-in, eight of them are chartered in from Ship Finance while the rest are from third parties.
Several comments have been made by different analysts on the stock (NASDAQ: GOGL). For instance, a price objective on its shares was set at $10.00 and Golden Ocean Group was given a "hold" rating by Morgan Stanley in a report which was released on Wednesday.
Also, the rating of GOGL was upgraded on Tuesday from "+d" rating to a "c" rating by TheStreet in a research note. On Monday, February 12th, it was upgraded from a neutral rating to "buy" rating by Clarkson Capital in a research note.
In a research note on Friday, BidaskClub also upgraded GOGL shares from a "sell" to a "hold" rating. A total of three research analysts have given the stock a hold rating while a buy rating has also been assigned to the stock.
Based on the research of several analysts, Golden Ocean Group has a consensus price target of $11.00 and an average rating of "buy."  Many hedge funds have presently added to their stake in GOGL, while, others have reduced theirs. Some of the companies that have added their stake include:
Renaissance Technologies LLC, which acquired additional 121,810 shares to make the total of their GOGL shares 1,067,082 which is estimated to be $8,697,000
During the third quarter, Riverstone Holdings LLC after acquiring new position in Golden Ocean Group shares has total shares equal to 10,847,447
During the fourth quarter, the stake of Millennium Management LLC in the shares of Golden Ocean Group increased by 317% after it acquired an additional 395,265 shares and now owns 519,955 shares of the GOGL stock which is estimated to be $4,238,000
After acquiring additional 154,923 shares in the last quarter, Deutsche Bank AG now owns 635,270 shares estimated to be $5,176,000
In the last quarter, Dimensional Fund Advisor LP increased its share of Golden Ocean Group stock by acquiring additional 156,706 shares which brings the total of their shares to 346,531, valued at $2,328,000.
Finally, the holdings in the shares of the shipping company by California Public Employees Retirement System was increased in the third quarter by 41.1% after purchasing extra 34,424 shares. The company presently owns 118,144 shares of GOGL stock estimated to be worth $926,000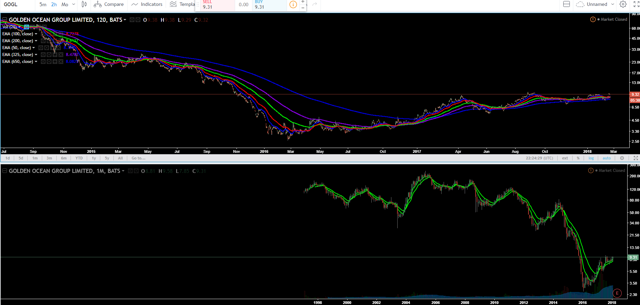 A total of 25.99% of the company's stock is owned by hedge funds and institutional investors. One of the stocks that have been overlooked by investors despite its potentials is Golden Ocean Group Limited.
The company proposed a dividend that was bigger than what was expected for the fourth quarter which indicates that the market was improving. Controlled by John Fredriksen, a Norwegian-born billionaire, the company recently stated that it would pay a dividend of $0.10 per share which was higher than the expected $0.02 dividend in a Reuters poll of analysts.
Analysts are of the view that the key factor to the profitability of the company is the extent to which the world's dry fleet increases. Presently, the optimistic view of the world economy has led to an increase in the orders for a new ship, however, new regulations on sulfur emissions and ballast water may result in the scrapping of older ships which may tighten supply.
Nevertheless, experts have strongly given Golden Ocean Group an average rating of "buy."
— The Option Specialist